Voice Over artist, Tobi in 2001.
How it started
I started playing under the name DJ Jab in 2000, mixing boom bap hip hop at private parties, small night clubs in Hamburg, Germany and on cassette tapes which were spread among friends and family.
The voice of DJ Jab
Around 2001, at a private party, I was introduced to Tobi, who is a friend of a friend. Tobi later went on to become a professional Voice Over artist for advertisements, documentaries and movies.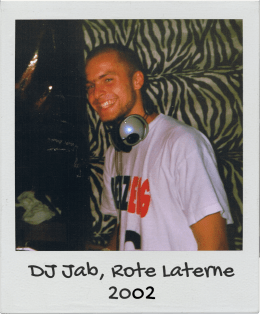 In 2016, right before a concert, I asked Tobi to spit out some variations of "DJ Jab" for me. We recorded outdoors, in front of the concert hall on my cellphone. One of the variations became my sound logo, which I have been using since then.
So far I've been lucky enough to meet him (which isn't easy) every time I've been working on a new mixtape. Since Fireabend, we've managed to record all the titles on the mixtapes. Long story short, Tobi is my official voice.
First Gigs
In 2002 I had my first monthly Saturday Night gig at Rote Laterne, St. Pauli, Hamburg, Germany. At the same time I released the Party Up In Here and The City Never Sleeps cassette mixtapes and could be heard on the Jam FM Def Beats show.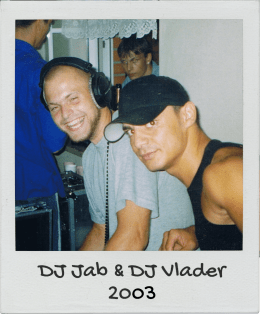 It was also in 2002 when I met DJ Vlader during a gig at Große Freiheit 36, Hamburg, Germany. We became friends and he dragged me through Northern Germany's night clubs as a support DJ for some years. Thanks Bro!
Jabz 100 Toplist
About the same year, I started a social network for DJ's on the World Wide Web: Jabz 100, a toplist network connecting several hundreds of DJs who were releasing underground DJ Remixes of popular songs. Jabz 100 had several thousand visitors a day and was part of the Roc-A-Fella Records Street Team in Germany.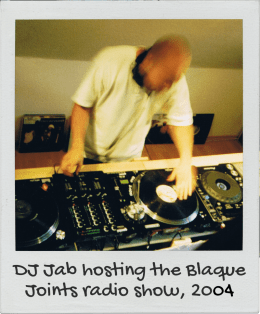 First releases
In 2003, I released the Charismatic Rap CD mixtape, which got airplay on Beatbasement. The same year I put out the Streets sampler, a collection of recorded freestyle sessions and music by fellow rappers and DJs. Despite a very small edition of only 50 pieces, the release caused a lot of trouble. Buyers often assumed they would get a production from UK rapper The Streets. D'uh!
Later in 2003, I started hosting the Blaque Joints weekly web radio show (120 Minutes of Funk) on blackbeatclub.com, playing Hip Hop, R&B and Party breaks on Friday nights to warm up the crowd. Luckily the show was prerecorded, so I could also do gigs on Fridays in parallel. It was a great experience and opportunity that would not have been possible without the Jabz 100 website. Thanks and shout outs to Dejan Bosic a.k.a. Realmaster D.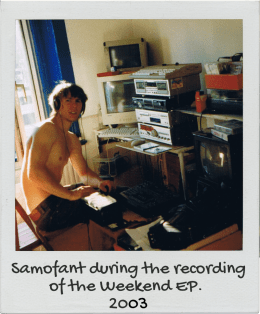 During one of my gigs at Rote Laterne, I had met Samofant, who introduced me to producing and actually making music instead of just DJing. Samo had great insights in how to make things sound funky and groovy.
In early 2004, we released a 12" vinyl EP called Weekend, which was recorded over the year 2003. After we delivered to some record stores, the record found its way onto FM radio. It got airplay on the Soundfiles Hip Hop radio show with DJ Mad on NDR in Germany and on DJ Beware's Tribe Vibes radio show on Austrias ORF FM4 station.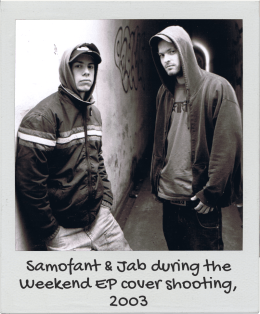 Both radio appearances triggered record sales and DJ gigs in a plathea of nightclubs in Berlin, Hamburg, Lüneburg, Kiel, Bremerhaven and other cities in Northern Germany. Too many to name, I cannot remember. That's when I finally had to cancel my initial Saturday Night gig at Rote Laterne. DJing was quite intense for quite some time.
Creative pause
In 2005 I decided to take a creative pause. I felt empty. Mixing at night clubs for a party crowd didn't cater my 1st love: Listening to and playing really good music. I also felt uninspired by the idea of releasing another record. I have "been there and done that", several times. I was ready to move on.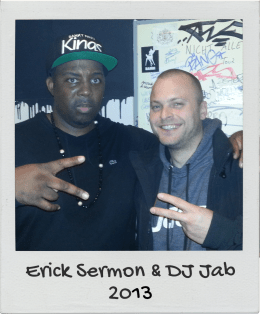 Digging deeper
During the following years, I cleaned up my record collection. I was trying to find my own style and personal taste in hip hop / rap music. Playing mainstream / pop hip hop at night clubs had made me numb for the actual art that I love: Grimey rap music. In the end, I gave all my records away. DJ Vlader probably still has a huge part of my vinyl collection from that time.
In the following years I got back to digging and collecting. Hip hop, jazz, soul, and folk music from all parts of the world. Diggin' deep into genres and styles. Nowadays, I occasionally compile some nuggets and publish them in a show, called Digger's Paradise.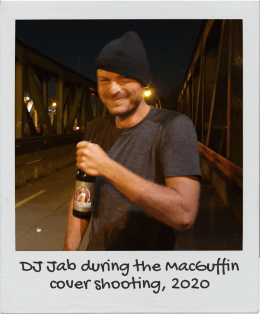 In recent years I was lucky enough to have the opportunity to play alongside some of the artists which I really like a lot and I enjoyed connecting with them. I finally had the time again to go to concerts, discuss music with friends, investigate producers, rappers, checkout remixes, bootlegs, etc. and not mainly take what I was sampled with by labels and dealers.
The freedom and the creative wild growth of my music collection gave me my mojo back. I became a fan again and was no longer part of the music/entertainment industry. That felt liberating.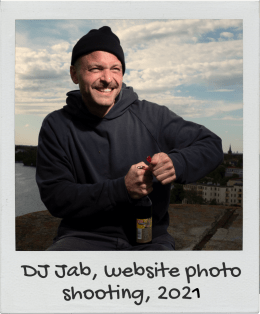 Hip Hop Mixtapes
Since 2017 I am releasing hip hop mixtapes again and am appearing on radio stations left and right. I love and enjoy the music and am happy to be able to focus on my day job and having DJing just as a hobby on the side instead of it being my main source of income.
2020 marked my 20th anniversary as DJ Jab and it never felt better.
These days I solely release music on Mixcloud and YouTube. They pay the artists and I can play whatever I want. A win-win situation. What's not to love?
Shout-outs
Love and respect to Joseph Abajian, founder of Fat Beats, who also goes by the name DJ Jab and probably uses it longer than me. Peace and love to Sheraz Puri for being a source of inspiration. Big-ups to Herr van Toll for taking photos and the good times.